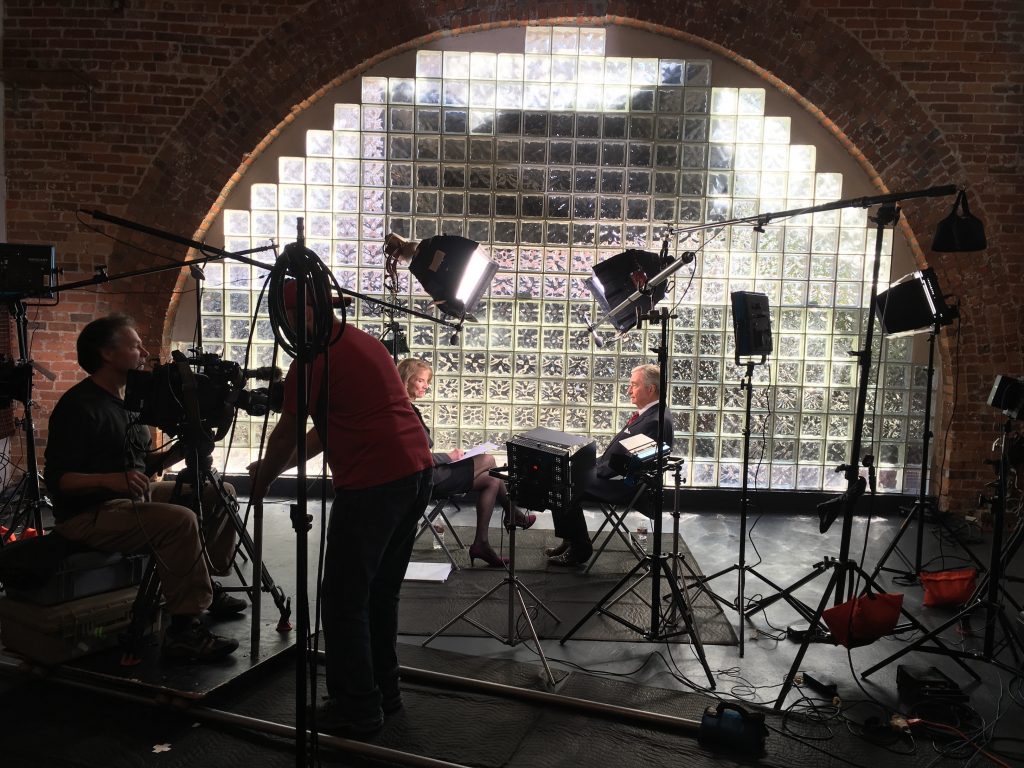 Like many people, I have a job that I never would have imagined for myself. Since 2014, I have worked as a field producer for the crime show "48 Hours" on CBS News. While I always knew I wanted to work in journalism, the idea that I would work in television was the furthest thing from my mind.
The show that I work for is primarily about murder – as our introduction says, Real Lives. Real Crimes. Real Life Drama. It's heavy stuff to try and make sense out of the mayhem of murder, and to tell a victim's story when they can no longer speak for themselves.
Because of what I do for a living, the concept of good and evil, and of heaven and hell, is often on my mind. I consider it an honor – and a burden – to be the voice for victims and their families. It's not unusual for me to get so engrossed in a particular case, that I lose track of time and spend an entire day glued to my laptop and my phone. My husband will come home from work and find me at my desk, still in the workout clothes I ambitiously put on at 8 a.m. but I haven't moved an inch.
Spending nearly every day dissecting human tragedy takes a toll. It has definitely rocked my worldview – but probably not in the way you'd expect.
As I mentioned before, I never planned to work in television. I've always been a words-over-pictures kinda girl. At the age of 8, I started my own community newspaper called Kid's News. I would sell it door to door for a nickel in my neighborhood.
If I'd had my way, I never would have left the newspaper business. But when you graduate from college in the middle of recession, your options get a little, shall we say, out of the box. So in 2008 I joined the Peace Corps and rode out the U.S. recession in the land of Ukraine, where I learned the real meaning of economic struggle.
After returning to Texas, I briefly worked for a local chain of community papers called People Newspapers in Dallas, before taking a job to help launch the Dallas division of a daily news website called CultureMap.
It was there that I fell in love with murder stories. I know it sounds crazy, but I really did. I discovered a poorly investigated murder case out of Keller, TX, where a woman had basically gotten away with killing her husband in cold blood.
The injustice cried out to me, and I spent months delving into the details and, ultimately, exposing the truth in the form of a three-part investigative series. The sham plea deal that the Tarrant County DA's office had offered this killer was eventually thrown out. A year later, she went to trial and was convicted of premeditated, first degree murder, and sentenced to 60 years in prison.
Getting justice for that victim's family was a high like I'd never known, and I've probably been chasing it ever since. As a result of that story, I started working as a consultant for "48 Hours" and later left my job in local media to work for them full-time.
Along the way, I've covered dozens of spousal murder cases, a handful of murder-for-hire, contract killings, and more mass shootings than I ever could have imagined.
These experiences have taught me that life is precious, beautiful, and fleeting. It has also showed me that evil is a very real force in the world today, and it's not a cartoon villain or a shadowy ghost.
It's feeding the selfish desires of our own sinful hearts. It's a hatred of God that is borne out of a thousand bad decisions. It's crazy to me all the ways we let the darkness in.
There's a verse that has really been speaking to me lately – Deuteronomy 30:19
"I call heaven and earth to witness against you today, that I have set before you life and death – blessing and curse. Therefore choose life, that you and your offspring may live."
I really do believe it is that simple, but certainly not easy. I see so much evil in the world, and I see so many examples of people choosing death and curse over life and blessings.
But I also see people who have faced unimaginable tragedy – the death of child – the loss of a parent – and yet they are not consumed by their grief or their hate.
This is a superhuman ability that comes only from God. I often say that my job shows me humanity at its worst – and at its best.
There's a story I'm working on for next season about an incredible woman who survived an assassination attempt – that was witnessed by her teenage son in her own driveway.
She still bears the physical scars of the attack, and has had to undergo dozens of operations. She's also a strong believer in Christ and her theme song is "Overcomer" by Mandisa. This is the chorus:
"You're an overcomer
Stay in the fight 'til the final round
You're not going under
'Cause God is holding you right now"
If you are like me, you might have heard this song and related it to a car that wouldn't start, or a leaky roof, or an infant that wouldn't sleep for more than 45 minutes at a time…And God sees you and me in those moments too – Isn't it amazing that the same God who cares for us in our daily troubles, is the one who carries humanity through its darkest hours?
There's another victim's story that has really stuck with me. A man whose father was murdered when he was just a toddler. He has no memories of him.
He grew up bitter and gave serious thought to seeking revenge on his father's killer, who got off on a legal technicality and is walking free today.
But that man came to know Christ, and in one of the most remarkable heart changes I've ever heard of, he actually met his father's killer, prayed for him, and forgave him.
He is a father now himself, and instead of being bitter about the experiences he never had with his  own dad, he is doubly grateful for the time he gets to spend with his own sons.
It gives me chills just talking about it. When life handed him death and curses, he turned to Jesus and found a way to still choose life and blessings.
In a lot of ways, spending my days dissecting human tragedies has made the Bible come alive for me on a whole new level.
There are so many stories of death and destruction in the Bible, and of people finding God in their suffering. The truth that's God's grace and redemption is available to everyone is really revolutionary. Not just for the victim, but also for the perpetrator.
I remember this summer when I was at a Bible study at my church, Bent Tree, and we were talking about the apostle Paul, and the fact that he was a murderer.
It's sort of this detail that gets glossed over in light of who he became later – but it's a pretty amazing testament to what God can do.
He literally took a serial killer of Christians and transformed him into an apostle who preached grace and peace – Paul opened and closed nearly every letter to the early church with those words "Grace and Peace."
He did that as a murderer, writing to his surviving victims! It's really hard to overstate how bizarre this would be today – and surely must have been back then. Can you even imagine? But that same grace that God extended to Paul, he extends to each and every one of us. His fountain never runs dry.
My job has taught me to be more grateful for the simple pleasures in life, and for any day that doesn't end in disaster. I'll close with a line that another victim penned in her journal before her death, and that has stayed with me every day since I heard it:
We don't know what the future holds, but as believers, we know who holds the future.