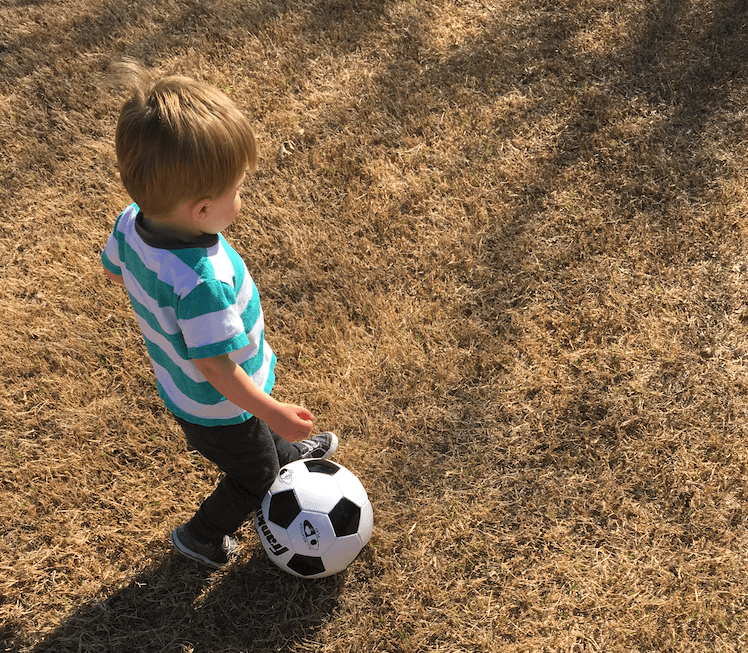 I've been playing organized sports since I was in elementary school. And it's true what they say: It's way more fun when you win. The youngest of three children, I've always had a competitive nature, and athletics seemed like a natural outlet for that energy. That's mostly been the case, but it hasn't always been that simple. A few years into my youth soccer career, our league changed from American Youth Soccer Association to something called FFPS – Fun, Fair, Positive, Soccer. While I agree with every word in that acronym, the way this league interpreted them was unusual for a so-called sport.
For starters, there was no score board. We were actually forbidden from keeping score. We also had to play every position, in every game. If you are familiar with traditional youth soccer, it is already a chaotic mess, just on its own. But this took it to a whole other level of insanity. It wasn't a game anymore – there were no winners and losers – it was basically a really long drill performed in front of an audience. My Dad and I still kept score, secretly signing to each other after each goal, but it was a strange thing to have to keep under wraps and my interest in soccer waned.
Despite my small stature, I went on to play basketball for a decade, eventually finding my way onto a varsity roster in high school. If I was looking for something more competitive than the FFPS model, I'm pretty sure I overcorrected. There were daily practices and a meticulous scrutinizing of the score, along with a host of statistics that I didn't even know existed. Granted, I probably put more pressure on myself than any coach ever did. But after four years of high-pressured, high school athletics, I had lost the love of the game. Not just basketball, the true, natural love of sport that had been such a constant in my life growing up. When I went off to college, I wasn't sure I would ever play a competitive sport again.
After flirting with the idea of out of state schools, I'd settled on a safer bet – Baylor University -just 3 hours from my childhood home of Katy, Texas. To spice things up, I went with a pot luck roommate rather than bunking with high school friends. I imagined being paired with a quirky, mysterious student who was heir to a throne or some other equally absurd and unlikely scenario. A quiet pre-med major from the exciting metropolis of Garland, Veronica, my actual roommate did not live up to the hype. So I went searching for new adventures beyond my dorm room, and wound up joining the club lacrosse team.
Having played sports all my life, though never a stick-based variety, lacrosse seemed like the perfect melding of the familiar and the foreign. I threw myself into the game with all the vigor and enthusiasm of youth. I didn't even really mind our so-called "newcomer spirit week," when we had to carry our sticks everywhere we went, including class, the grocery store, and the bathroom. It was a challenge, and a conversation starter, and I personally thought it looked pretty badass to carry a titanium stick around.
Despite the intentions of organizations like Fun, Fair, Positive Soccer, American athletics can be intense. For better or for worse, that means you rarely start a new sport past elementary school. But at Baylor University in 2004, women's lacrosse was a club sport that was exotic enough not to have a built-in base of experienced players. It was like I had a found a wormhole to a simpler time, where an 18-year-old could learn a new sport from scratch and get to play against teams all across the country. I was hooked. Lacrosse became my family at college – kinda like a sorority, except with sticks and tournaments instead of spiked punch and social mixers.
Although I had vast experience with sports by the time I got to college, I didn't really get what they were all about until I picked up a lacrosse stick for the first time. There were no expectations because I'd never even played before. It was exhilarating, and not just because I got to hit things with a stick, though that novelty still hasn't worn off. I felt like I'd rediscovered a secret that you intuitively know as a kid but forget as you grow up: playing games is fun.
I know it sounds silly, but the truth is, there's very little in life that can't be improved by a spirit of gamesmanship. I took the lesson from the lacrosse field to the classroom, and made a game out of my least-favorite courses. At the beginning of the semester, I would pore over the syllabus and find out exactly how grades were tabulated. Then, I'd try my best to game the system. It worked like a charm. In my geology class, I learned that if I did every extra credit assignment, I could actually fail all the tests and still make an A in the class. If you think you're surprised, you should have seen the look on my professor's face when I turned in a blank test. I was showing off a little, but hey, it was a game. And I'd figured out a way to win with flying colors.
As the years went by and I was no longer totally new to lacrosse, I reminded myself of the simple joy I had felt when I first learned to play. And I found new ways of keeping score. Like when we signed up to play in a Division 1 tournament in Florida over Spring Break. We were severely outmatched, talent-wise, but waking up in a beach front hotel and spending our pre-game hours in the sand and surf made up for it.
I still remember when we arrived at the first game and were lining up against the competition. They were from the North East, and I made some small talk about how great it was to be in Florida on Spring Break. My Division 1 counterpart looked at me like I was speaking a foreign language: "It'd be better if I actually got to see the beach," she said. I stifled a laugh and dusted the sand off my forearm. True, we lost the tournament, but with an all-expenses paid beach trip with 12 of my closest friends, we had won the Spring Break Trophy in my book.
In the post-college years, I've kept up with many of my stick sisters. We've cheered each other on through professional and personal wins and losses. There've been jobs landed and lost, relationships made and broken, and through it all we have stuck together. I still find a way to play a handful of competitive games a year, whether it's basketball or lacrosse or some other sport entirely.
At 32, I now consider any competition victorious as long as I finish without sustaining an injury. And I've kept the spirit of gamesmanship alive in my professional life as well. As journalist for CBS, there is no shortage of highly skilled competitors. I remember having a conversation with my boss after losing out on a story in my rookie year as a national media player. She said something that really stuck with me, and brought my experiences as an athlete-turned-journalist full circle. "You can't expect to bat 1.000 in the major leagues." It was a gracious and true statement. No one succeeds at everything they try, but the secret to winning at life is finding joy in the game.